Pop-up store
So baseball season is well under way, and you know it's just a matter of time before the Red Sox and Yankees jokes start flying. (As if they ever stop.) Let's rise above this, shall we? Into the lofty world of style, full of fun, fashion and...fighting? Some of the Big Apple's finest designers are roaring up to Beantown for Boldfacers' Fashion Face-Off Pop-Up Store to strut their stuff alongside Boston's brightest. It's all in good sportsmanship, of course, as you will see this Friday at a night full of select secret sample sales, pre-fall collections and one-of-a-kind designs. Oh, and there's a DJ party, too. Take that, Fenway Park.

In the New York Corner...
(in alphabetical order -- click on names for website links)
Coye Nokes
Women's Footwear
Crafted by artisans in the Marché region of Italy, Coye Nokes creates beautiful footwear for the contemporary working girl – effortless chic, confidently feminine and an understated urban grace. With the aim of inspiring strong women, the styles are named for women who have accomplished great things. The designs are modern, yet timeless. With a range of heights and styles, Coye Nokes hopes to take you from a day in the office to a night on the town with style.
Cosmetics Line
When Dexter Phillip decided to launch his own cosmetics line, he had two prerequisites: One, his line would be cruelty-free, hypoallergenic, and eco-friendly. And two, his artist, stylist and photographer friends would all approve. After receiving the thumbs up on all counts, Dexter proudly rolled out a full collection of modern mineral makeup to take women from the runway to the street. He describes his line as natural, not neutral. We'll add in always smashing.
What happens when your dad is a jeans designer and your mom owns a clothing boutique? Not a future in chemistry…although Michelle Vale mixes together some pretty cool metals to create her line of handbags. Her collection enables women to alter the color of hardware as well as change the way it's carried. Using only the finest leathers and exotic skins, Michele offers the modern woman a customized bag that is all about the now, now, now.
Women's Apparel
Suma Chander grew up in a small town in India and worked on Wall Street for years. Sounds like a recipe for a fashion-designing future to us. Why? Because all true dreams come from within, and ever since she was young, Suma had a burning interest in clothing, fabrics and color. Her first collection bridges Suma's Indian heritage with her love of American and European sportswear. Feminine layering, textured fabrics and unique hand work are staples of her designs. Distinctively elegant, this Spring/Summer collection possesses all that Suma believes in: authenticity, sophistication, lushness and simplicity.
In the Boston corner…
(in alphabetical order -- click on names for website link)
Cosmetics Line
She's long been Boston's secret answer to Trish McEvoy. And now, with a refurbished eponymous line of cosmetics, Coco might be standing alongside Trish any day now. Coco has traveled extensively as a makeup artist and is represented by top print agent Ennis inc. Her clients include Gucci, Christian Dior, Sonia Rykiel, Crabtree and Evelyn, Tiffany's, Shreve Crump and Lowe, Hugo Boss, Sony, Pepsi, Volvo and Reebok. Coco's work has appeared in publications including Vanity Fair, Self, Marie Claire, Real Simple, Boston Magazine, Martha Stewarts' Body and Soul,British Hello and Elegant Wedding She is also highlighted in the New York Times Best Seller "How Not To Look Old." She has had the pleasure of working with many celebrities such as Paloma Picasso, Julianne Moore, Helena Bonham Carter, Minnie Driver, Mel Gibson, Tom Brady, Matt Damon and President Barack Obama.
Women's Apparel
What does Daniela not design? Hard question. She creates swimwear, black tie gowns, cocktail dresses, business suits, killer separates – even baby wear. Since 2000, Argentina transplant Daniela Corte gained an instant following in Boston among busy, discerning fashion lovers. Dubbed "Best Local Fashion Designer" from Boston Magazine, she continues to design from her own Back Bay studio and prove once and for all that Boston is a great place for the fashion forward.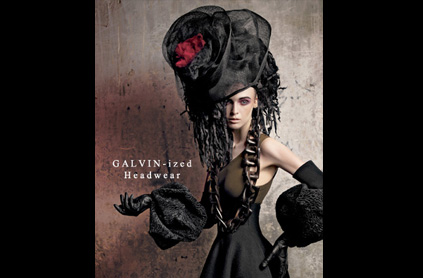 Galvin-ized Headwear
Hats
Marie Galvin is an award-winning Irish milliner based in Boston. Ten years ago, with limited access to schools offering millinery courses in the States, Galvin resorted to teaching herself the art of millinery. She began daily studies, poring over old edition millinery instructional books and by deconstructing vintage hats. Seems she succeeded, considering that Cher, Alicia Keys, Vivica A Fox, Claire Danes and Taye Diggs can all be seen topping off their looks with her hats.
Women's Apparel
You may recognize her from Project Runway, but Maya Luz was a rising star long before the reality TV show. Born in Sante Fe, New Mexico, Maya moved to Boston to attend the Massachusetts College of Art and Design, where she graduated with distinction. She is no trend follower, that's for sure. Her signature pieces include a ball and chain evening bag and shredded dresses to reflect a not-so-subtle swipe at fashion victims. Maya's work has graced the pages of the Boston Globe, New York Times and US Weekly.
Jewelry/Home goods/Fine Art
Don't be fooled by the NYC in the title. These guys are on Boston's side! Although truth be told, this duo is firmly entrenched on the team known as makers-of-the-coolest-stuff-on-earth. Don Carney and John Ross have the eye and talent that transcend any location. From fine art to pillows to can't-keep-it-on-the-shelves jewelry, Patch NYC has been a coveted brand carried by the finest specialty shops in the world, including Bergdorf Goodman, Fred Flare and Barneys. Formerly of Manhattan, John and Don moved to Boston and set up a lifestyle studio where they create art and design collections of home and fashion accessories including costume jewelry and scarves. John and Don have designed special home collections in collaboration with West Elm (pillows, art, serving pieces) and Anthropologie (wallpaper, pillows, mugs and plates), stationery for Barnes & Nobles. Welcome to Boston, guys. We've been waiting a long time for a pair like you.
Women's Footwear
Tiger striped stilettos, ruby red peep-toes…you can just hear the sex and romance dripping off the heels. Zack Lo is changing the footscape in Boston faster than you can whisper "loafers." Formerly of Great Britain, Zack brings a touch of "London meets Hollywood and parties in Tokyo" aesthetic to his line of shoes. With a fine arts degree under his belt, Zack says he is now striving to design shoes for women who are not scared to express themselves with their feet or otherwise.
Generously sponsored by PBD Events.
This is a BOLDVERTISEMENT (a sponsored Boldfacers effort)